Before a large wintry storm ends the weekend and starts the new week, a band of snow will continue to sweep across New England on Saturday.
Motorists venturing along portions of interstates 84, 90, 91 and 95 should be prepared for slow and slippery travel early this weekend.
Download the free AccuWeather app to see how long wintry weather or rain will affect your location.
Police attend to a multiple vehicle accident on Independence Avenue in Washington, D.C., as a winter snow storm hit the nation's capital on Wednesday, Feb. 20, 2019. (AP Photo/J. Scott Applewhite)
Following Friday morning's blanket of 1-4 inches of snow in portions of the mid-Atlantic, a second storm caused snow and ice to develop across the northern mid-Atlantic on Friday night.
The snow coated roads and created major traffic slowdowns on Friday night from Philadelphia through New York City and New Haven, Connecticut.
A total of 4 inches of snow whitened New York City's Central Park by Saturday morning.
View image on Twitter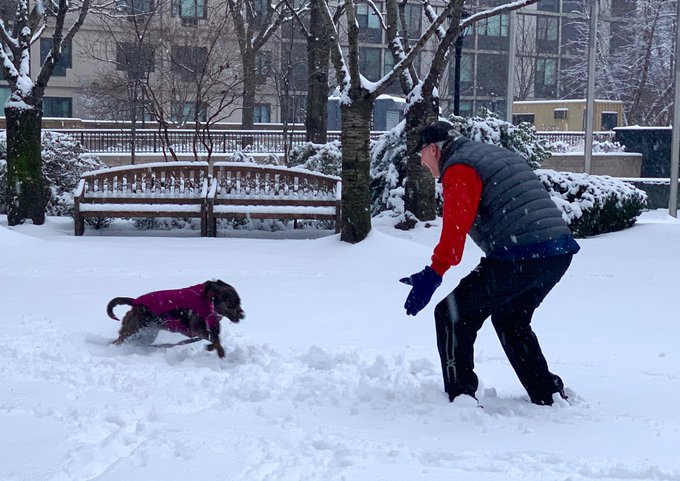 Travel conditions will improve around New York City on Saturday as the snow departs and temperatures climb well above freezing. At the same time, snow will spread from southern New England to the coast of Maine.
Total snowfall around the Boston area is expected to average 3-6 inches, leading to disruptions to travel and weekend plans.
More than 100 flights have already been canceled at Boston's Logan International Airport, according to FlightAware.com.
As the storm grazes Portland, Maine, on Saturday afternoon, the coating to inch of snow that is anticipated may occur mainly on grassy and elevated surfaces. The early March sun is strong enough to limit light snow from covering roads during the day.
Motorists, however, should remain alert for any wet spots on untreated roads to turn icy at night as temperatures plummet below freezing.
Third storm to fade over northern tier
The third storm may only be a mere ripple in the atmosphere across the northern tier.
However, as this feature drifts eastward into Saturday night, a few places from Michigan to upstate New York to northern New England may receive a coating to an inch of snow.
Major storm waits in the wings to end the weekend, start new week
The large storm scheduled to affect the Ohio Valley during Saturday night and Sunday and the Northeast from Sunday to early Monday will move along at a fast pace.
However, a heavy snowfall on the order of 6-12 inches is likely north and west of the storm track with major travel disruptions.
["source=accuweather"]